My husband and I just moved into a home 'featuring' one of those large soaking tubs with Jacuzzi jets to boot. Sure there will likely be a few times we'll use it. But we're like many of my clients who would much prefer that space in the master bathroom be devoted to a large – make that large AND luxurious – shower, maybe with not one but TWO shower heads.
The trends in homes and today's busy lifestyles are clearly moving in that direction. So such a remodeling project fits nicely with what homeowners of virtually all ages now want in their master bathroom.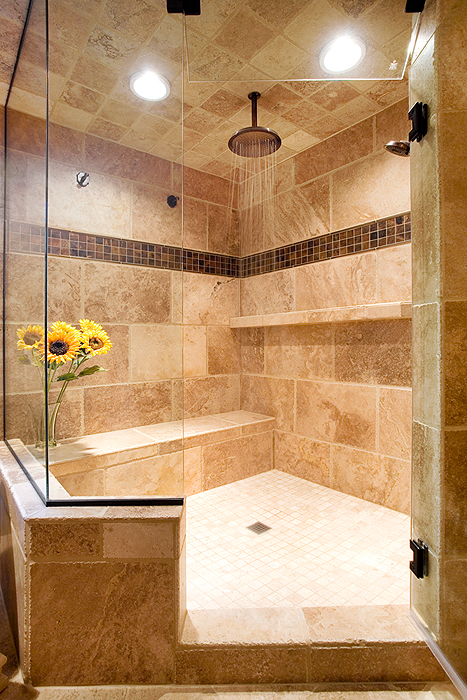 The reality is that most soaking tubs used intermittently gather so much dust they need to be cleaned before they're used. That makes it a hassle, which adds to the strain on the hot water heater, not to mention your water bill. Add to that the risk of someone slipping getting into, or climbing out of, the tub and ya gotta ask yourself: why devote THIS much space to something we'll rarely use?
Typically, we have at least one traditional tub in another bathroom, which is ideal for a young family or when grandchildren visit. If for no other reason, it's a win-win when I sell your home some day.
So my husband and I have added this to our list of home upgrades with features such as a larger seating area than our current shower, digital – yes digital – shower heads, linear drains and LED lights. Oooo yeh! Ha! Wouldn't hurt to have larger, good shelf space and seamless doors. We can dream, right?! Like the one here, at right.
Ah, so what might all of this cost? I thought you'd ask, so here goes:
A quick survey of kitchen and bath remodelers serving Northern Virginia, including those on Angies List, turned up this range of prices:
Assuming a "complete" but not luxurious redesign and a 5' by 7' room, we're talking in the vicinity of $6,000 - $7,500;
A typical "deluxe" package for a 5' by 8' bathroom, similar to the one pictured, prices start around $9,000 - $12,000; and
An "ultimate" makeover of an 8' by 10' bathroom, you'd better budget for something like $16,000 to $18,000.
If you'd like a second opinion, I'd love to help you make up your mind. We can all learn from each other. Give me a ring at 703-593-9432 or email me at AndyAdvantage@yahoo.com and let's chat about options to re-design and improve that space!
Happy Showering!
IMAGE CREDIT: See some great ideas at www.ComplementsHome.com. Too bad they're in Oregon!