As incandescent light bulbs burn out in my house, I'm replacing the most heavily used bulbs with LED light-emitting diode) bulbs. While they're more expensive to buy than incandescents, CFLs and halogen bulbs, they cost a LOT less to use and can last for several years. I'm talking more than 10 years in many instances -- in some cases close to 20 years. In the long run, we're talking about serious savings!
Depending on how much you use them, many households can recoup that upfront cost within 2-5 years. After that it's gravy! Plus, you don't have to replace them so often. (Just be sure not to drop them, Ha!)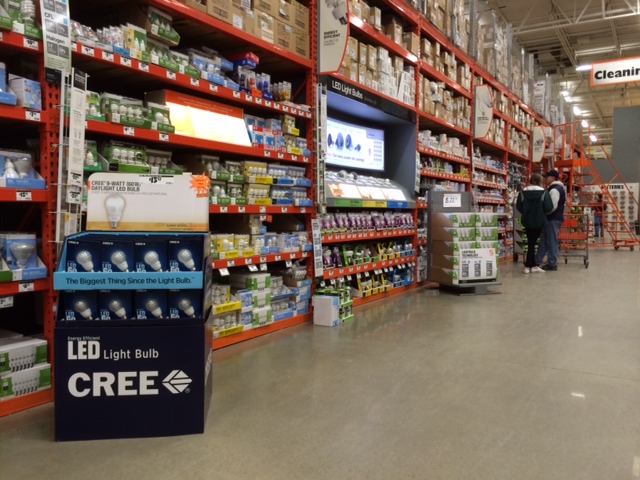 After scoping out several web sites and reviewing options at our local Home Depot in Leesburg (see photo, left) and the Lowes in on Route 50 near one of my offices, in Fairfax County, here's what my husband and I have learned and want to share:
If you use a ceiling flood light or a table lamp more than 4 hours a day, it probably makes sense to replace those bulbs immediately because of the savings in electricity. Wait to replace other lights, especially ones you use only a few minutes a day, until you have to replace them or LED prices decline. When in doubt, stick with the two leading brands of LEDs: Cree, based in Durham, NC; and Philips, the big multi-national corporation based in the Netherlands but with huge operations in the U.S.
With each passing year, the prices on LED's are likely to slip a bit so patience is an economical virtue. Don't fall for the compact fluorescent bulb pitch, especially if they give out that bright white light and aren't dimmable. CFLs are soo last decade!
Before you march into Home Depot, Lowes or wherever you buy LEDs, get smarter so you know what type or appearance of light (in "K" for Kelvin) and how much of it (in lumens) that fit each spot in your home.
Begin by following these five basic steps and build a list of the LEDs that make sense this year, starting with bulbs for table lamps and similar applications, followed by in-ceiling flood lamps.
My 5 Basic Steps for Lighting Your Home with LEDs
1. Identify which lights are on during these winter months at least 4 hours a day. We're likely talking about kitchen, family room, kid's playroom and/or home office.
2. Determine how bright you need the light to be in those rooms. To help transition your thinking into the new world of LED bulbs, here are the watts for incandescent (old) bulbs and the matching LED bulbs with their llight output in lumens.
Let's talk about table and wall-mounted lamps first:
40 old watts = 5 LED watts / 450 lumens: These have been selling this winter for about $10, but I've found on sale 50% off for about $5.
60 old watts = 9.5 LED watts / 800 lumens: These have been selling this winter for about $13, but you might be able to find them during promotion at 50% off for about $4.
75 old watts = 15 LED watts / 1100 lumens. Haven't found these on sale yet; normal price this winter has been about $20.
Now for in-ceiling flood lamps:
65 old watts = 9.5 LED watts / 650 lumens. Standard price has been about $20, or just under $80 for a 4-pack.
3. Decide if you need soft, warm white light (2700 K, for Kelvin), "bright white" or "daylight" (5000 K). Personally in the rooms that make economic sense now, I'd recommend choosing soft warm white light in each case.
4. Do you want dimmable lighting? Most LEDs are equipped for that. Just be sure the ones you buy are dimmable.
5. Take this list into your home supply store and find the LEDs that fit your specs. Keep an eye out for sales and other discounts.
Unlike our neighbors to the north and east where utilities have rebates for LEDs, Dominion Virginia Power hasn't offered rebates on efficient lighting for the home since 2011, and those were for CFLs! I tried calling them to find out if any LED rebates are in the works, to no avail. Not even a call-back by their media relations department.
Go here for what I think (so far) to be the most consumer-friendly guide to more efficient lighting for the home. It was compiled by the Natural Resources Defense Council (NRDC).
And here, from The New York Times, is a writer's first experience with LEDs. That article has some very helpful interactive links if you're really serious about LED lighting throughout your home.