For homeowners willing to invest up front, tank-less water heaters are a luxury worth having. And the equipment can add some value to your home. But let's drill down and learn what it takes to go tank-less. Ask yourself: are there enough advantages?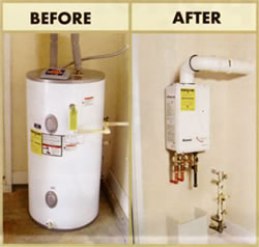 A lot depends on how much water you want on-demand. For growing families, especially with teenagers, this could be important. It also matters whether you're water is heated with gas or electricity.
Here's my rundown, drawn from feedback from my trusted handymen and plumbers and the staff at Angie's List.
Traditional water heater is on the left, tank-less on the right. Images courtesy of Sacramento Tankless Water Heaters
If you're serious about going tank-less, give me a call and I'll connect you with my resources to help you decide. Happy showering!
| | | |
| --- | --- | --- |
| TRADITIONAL | | TANK-LESS |
| $400 - $1,000 depending on the model | To Buy | $1,000 for an electric model to $3,000 for gas |
| $25 - $30 / month for gas; $60-$75 for electric | To Operate | $15 - $25 for gas; $45 - $60 /month for electric |
| 10-15 years | Lifetime | Up to 25 years |
| Up to a six-year warranty | Warranty | Often a 15-year warranty |
| Stores 40-60 gallons | Capacity | 2-5 gallons per minute |
| Generally around 5-feet tall, 2 feet wide and deep | Size | Roughly 20" wide by 28" tall, 10" deep |
| 30K to 50K BTUs* while heating | Energy | 150K to 200K BTUs* to heat water on demand |
| None needed here. Stick with what you've got. | Upgrades | Electric models need more voltage and a bigger circuit breaker; gas models may require a larger gas main into the home |
| When it breaks, watch out for a water gusher | Careful | Electric models don't always work well in cold climates (but it's never that cold in NoVA, is it?) |
| Provides ample hot water to multiple sources at the same time unless you've got a houseful showering simultaneously | Advantage(s) | Unlimited hot-water supply and modest savings on utility costs |
*BTUs=British Thermal Units