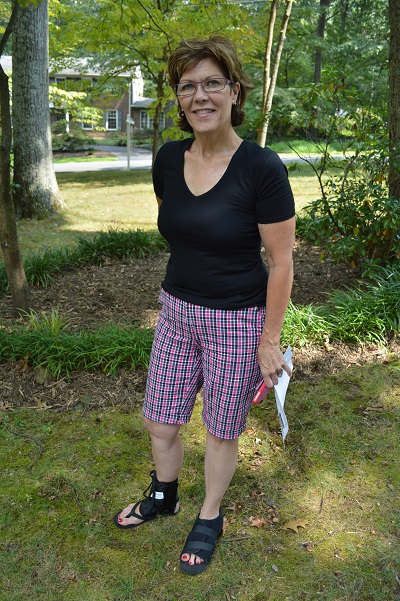 Time for Andy's husband Jim to chime in here and shine a spotlight on Andy's commitment to client service. Hang with me here because there's a moral to this short story.
The weekend of August 24, Andy was shopping with a friend for a dress in Old Town Alexandria when she tripped on a cobblestone sidewalk. The result: two bradly sprained ankles. The prognosis: two black 'boots' designed to stabilize both ankles as she tries to resume somewhat normal activities, including previewing homes for clients.
Within five days, several homes popped on to the market that that might be a good match for a client. Andy insisted on seeing them ASAP. So she recruited a chaffeur -- that would be me -- to go see seven homes for sale, beginning in Falls Church and ending in Reston.
This photo is of Andy in action, boots and all.
The morale: very little, if anything, keeps Andy -- a k a House Hunter Andy -- from her appointed rounds and finding just the right home for clients, no matter the obstacles, or shoes she has to wear.
And we know how women are about their shoes.