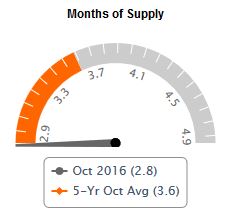 Call me a nerd if you will, but I love diving into data about residential real estate in Northern Virginia. I like sharing observations about what it shows if it helps paint a big picture of whether a home is a good investment in one of the nation's fastest growing counties with relatively high household incomes.
Several data points caught my eye as I looked back on October 2016:
The 499 closed sales is significantly above its five-year average of 436;
The 2.8 "months of supply" is notably below its five-year average of 3.6 months (see chart);
The total number of contingent and other contracts combined with closed sales rose to 1,303. That's higher than each of the previous four years (see snapshot).
What does this tell us?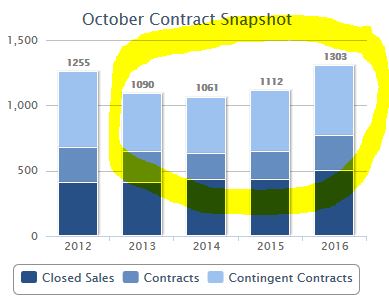 For one, home purchases and sales are brisk which means the demand continues to grow among buyers. These include families looking for bigger homes in neighborhoods with good schools either working close to offices in Fairfax or Loudoun counties. That's a good foundation for any housing market.
While the average price of a home in Loudoun County has remained at about $476,000, this indicates the supply and demand are relatively in sync: buyers have options and sellers can complete a sale if their home is up-to-date and in a good location.
If you or someone you know is looking at Loudoun County, be it for its neighborhoods and schools, the welcome (yea!) additions of upscale dining and shopping, or even the growing options for 55+ communities, give me a ring at 703-593-9432.
Thanks!
~Andy
Stats are courtesy of my colleagues at our regional MRIS Multiple Listing Service.