I enjoy talking with friends and clients who are doing great things in remodeling their homes. Often the kitchen gets remodeled first. But master bathrooms are next, even if you're getting ready to sell.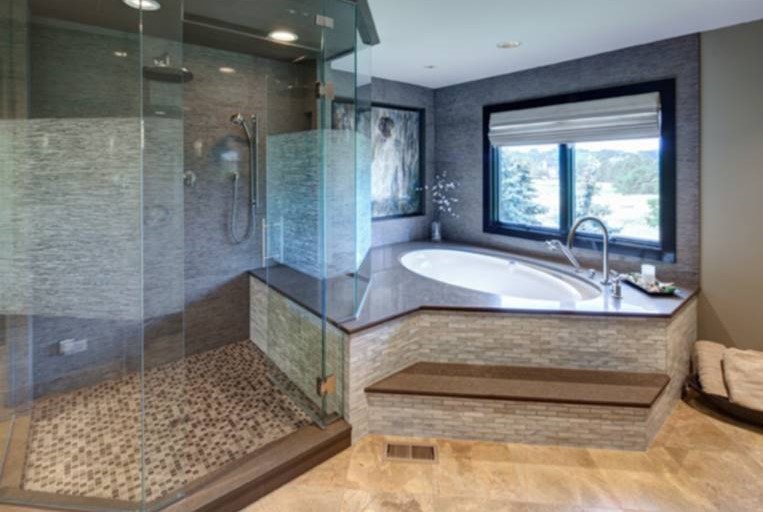 Master bath's long ago stopped serving the utilitarian functions. Now homes buyers are looking, and willing to pay, for well-designed bathrooms that are well updated and lovely to look at too.
More bathrooms I'm seeing emulate not just the look and feel, but also the experience, of a spa. Designer Stephanie Brick wrote recently in The Washington Post, that "Double shower heads, body sprayers, chroma- and aromatherapy show enclosures – the list of ways to incorporate splendor and extravagance into even small spaces is endless." So true! (The accompanying image is a S T R E T C H, isn't it. Hey, to each his/her own! CREDIT: Houzz.com)
If you're upgrading your master bath or moving into a used home and can't wait to bring its master bath up to snuff, here are some pointers you should keep handy:
Don't neglect how you store things. Especially in smaller bathrooms, efficient and small-scale storage solutions can make yours function more smoothly. If there's enough space in front of your vanity sink, try adding tilt-out to the false front. You'll find it perfect for toothpaste and other small items that clutter your counter.
Heated floors: a cousin installed one and he and his wife love how good it feels on a cold winter – or any – morning.
Walk-in, frameless, showers just seem to be getting bigger and bigger still. Some new homes being built in Fairfax and Loudoun County have huge shower areas along with drying areas just a step from the shower!
A point of colorful discussion – and I'd welcome your opinion – is the utility and/or appeal of a freestanding bath tub. Master bath's with one abound in home design magazines because they can be a focal point and add personality. But how often would you use it? Twice a year maybe? Or is it used mostly by the kids?
OK, now get these extras: Bathtubs with built-in Bluetooth speakers; toilets with glowing night lights; mirrors with seamlessly incorporated TVs. I mean really? Ha!
In case you don't have them already: "adult-height" vanities and "comfort-height" toilets are must haves when selling a home.
I'm certainly happy to offer my 2 cents worth to whatever you're planning. I see a LOT of master bathrooms every year. While I'm neither an architect nor a certified remodeler, I can recommend one or more you could consider. Just let me know.
If you're a fan, as I am, of HGTV, check out these 15 dreamy spa-inspired master bathrooms.
Happy showering!