I'll admit it, it's tough to pass up a good flea market for those one-of-a-kind furniture pieces I can salvage for adding more personality to my home.
Well this summer I found a few more pieces so I'm preparing now not just to save them but to update them. Here are six options I've found for doing that assuming each has good lines, good proportions and you can tell if it was made with good craftsmanship.
Painting old wicker, wood chairs or tables
Go with a soft white with a built-in primer. This from Dana Gibson, a designer and artist in Richmond. She says Rust-Oleum's Ultra Cover 2X Satin Spray in Heirloom White is a excellent choice.
For that lived-in vibe with casual sofas
Think about slipcovers rather than reupholstering which we all know can be very expensive. You can find some slipcovers with tailored arms and straight skirts at SlipcoverShop.com.
Freshen beat-up metal furniture
Sand off any old dirt and rust first. Use Benjamin Moore's Benwood Stays Clear Acrylic Polyurethane to seal and help protect it. Brushing on some lacquer can even out the surface and give it an even nicer sheen.
You CAN repurpose old curtains and table linens
Have a small lacy white tablecloth from your mother or grandmother she's going to throw away? Grab it instead for crafting into a window treatment, well, maybe.
Resize tables by cutting off their legs
Think about it. An existing dining room table could be shortened to serve as a large coffee table; smaller tables could be repurposed as a night stand or a lamp table.
And yes, even this bathtub can have a new life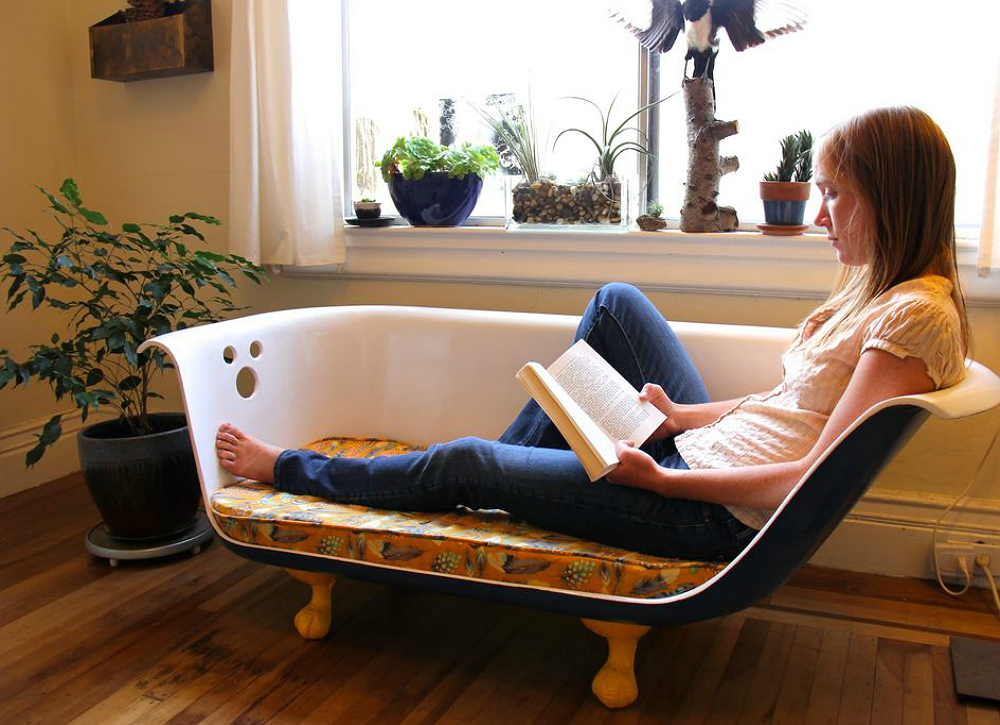 How many times have you seen an old tub. If you can get one on the cheap, along with some help to move it, a casual place, with cushions, just might work.
OK, so some of these ideas might strike you as pretty far-fetched. But thinking outside the 'box' can not only be fun, it can save you money and you'll enjoy the process too.
Photo: Bob Vila