Smart REALTORS® have been buzzing lately about a thought-provoking real estate column that ran in The Washington Post June 15, 2015. The column summarized a rare critique of our industry by the leading trade group, the National Association of Realtors.
Columnist Kenneth Harney spotlighted these "broadsides:"
"The real estate industry is saddled with a large number of part-time, untrained, unethical and/or incompetent agents;
"Low entry requirements for agents are a key problem . . . agents need only complete 70 hours, on average, to qualify for licenses to sell homes . . ;"
Professional, hard-working agents "increasingly understand that the 'not-so-good' agents are bringing the entire industry down;"
Though "most brokerage companies are either ignorant . . . or believe they are in compliance" with anti-kickback rules, "most are likely in violation already."
I'm sharing this with you because I've prided myself on very carefully adhering to industry and Virginia rules governing behavior by REALTORS® while staying abreast of emerging developments with continuing education classes. I am confident my clients will back me on this.
Two of the most important lessons for you and any of your neighbors, family, friends and/or co-workers drawing on my 25+ years in the business are these:
Vet any agent you are considering working with to ensure he/she matches the skills and experience you need. I'm surprised how hastily some folks make a decision to sign up with an agent they've barely met.
Don't assume that a lower fee is always better. A lower fee might make sense IF you are willing and genuinely trust yourself to handle a lot of the work AND the legal mechanics of a home purchase or sale. The old adage is so true: you get what you pay for.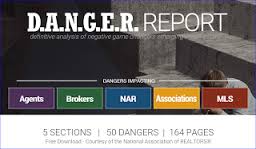 You can dive into the 160-page report yourself – titled the Definitive Analysis of Negative Game Changers Emerging in Real Estate (cover image, left) – by going to www.dangerreport.com.
As always, I welcome your comments and suggestions.