Have you ever admired a friend's well-organized master bedroom closet or pantry? I've seen hundreds of decent closets, some messy ones but also dozens of really well-organized closets. If you aspire to clean up your closet act, I've got a very cost-effective option: Scot Schrager at Closet Renovaters.
Chances are, you also might have piles cluttering up your home office, or you might fear an avalanche when you open the hall closet to retrieve a jacket. Most of us have these "hot spots" in our homes, where we struggle to overcome clutter and chaos. Scot can help those areas too!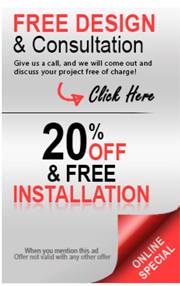 He serves just about the entire Northern Virginia region. After meeting him a home show in 2013, several of my clients hired him to re-engineer their closets. But don't take just my word for it. He's fully licensed and can be found on Angies List, where the reviews speak volumes about his top-drawer work.
After assessing the shape and all of the dimensions of the available closet space, Scot has a formula for organizing the contents. It's downright logical when you think about it: upside down from how you would wear it. Shoes go on top, pants in the middle and shirts at the bottom. Why? Because, Scot says, hanging clothes are 24 inches into the space, "if we put shelves on the bottom the shirts would block your line of sight." Think about it. Pants typically hang shorter than shirts giving you access to shelves below for additional storage.
Check out his web site at Closet Renovaters or give him a call at 703-962-7707. Tell him Andy sent ya and grab the coupon (right) for a great discount!