Interesting.....and seems we are not hearing much about this.....as this area of interest falls to my husband, Jim Pierobon, here are some of his thoughts our neighbors in Loudoun County might want to know more about.
Construction could begin in 2014 on a very large, natural gas-fired, power plant on 101 acres bounded by the Dulles Greenway to the south, Sycolin Road to the west, Cochran Mill Road to the north and Gant Lane to the east.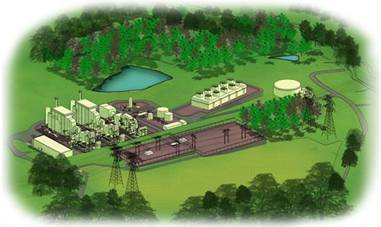 Given that the owners of the proposed power plant -- Dallas-based Panda Power Partners and Green Energy Partners/Stonewall in Hamilton, VA -- have earned 'green lights' thus far from the Loudoun County Planning Commission and the County's Board of Commissioners, they appear to have satisfied several local issues that often derail large industrial facilities near residential communities, especially when the land originally was zoned for "low-density residential" (one resident per 10 acres). These include an air permit issued in April of this year from the Virginia Department of Environmental Quality.
Panda Power Partners states the plant (see accompanying schematic) has been designed in anticipation of increasingly restrictive greenhouse gas regulations expected from the U.S. Environmental Protection Agency.
This power plant is supposed to pack 750 megawatts of electric generating capacity fueled by natural gas. That's almost the size of a full-scale, always-on, power plant by today's standards which usally can only be found in rural and long-standing industrial areas. Construction is expected to take about two and half years and is to begin after the project earns its Certificate of Public Necessity from the Virginia State Corporation Commission and secures the the $800 million needed to finance the project. Target date for completion is 2017.
A major advantage to building the plant at that site is that it is close to two interstate pipelines which would supply the natural gas. The web site archiving many of the project's announcements is here at: LoudounPower.com/news.
The owners assert the plant will deploy the "most advanced" electric generation emissions-control technology currently available "in an effort" to make it one of the cleanest power plants of its kind in the nation, according to Panda Power statements which have been printed in the Loudoun Times and / or Leesburg Today newspapers.
Press releases mention plans for a solar electric system. But that is dependent, Panda Power spokesman Bill Pentak told us, on Virginia creating sufficient incentives to do so. Interesting that they dangle that feature when in Virginia, solar is very difficult to justify BECAUSE there are no real economic incentives.
Plant owners state their intention to purchase treated wastewater from a county wastewater treatment plant to be built near the site. That water otherwise would flow into the Potomac River. Payments to Loudoun Water could help reduce future utility rate increases by Loudoun Water.
We could not quickly determine how much noise this plant will make nor how visible any emissions would be, if at all. That will likely take some digging.
A "secure" business park is planned for the grounds just south of the proposed plant and adjacent to the Dulles Greenway. That could mean a portion of the electricity generated at the plant would supply business park tenants.
If you want more information about the plant operations, pull yourself up to a computer and follow these steps to learn more from documents available online:
1. Click here for the "Loudoun Online Land Applications System (LOLA)"
2. Above the map, click on "searchable list"
3. In the Application Name field, enter: " Stonewall Hybrid Energy Park"
4. What you should see next are five folders containing a variety of application submissions and permitting documents dating back to the start of the permitting process in 2009 and the public hearings which followed in 2010.
5. By clicking on the "ZMAP" document, you should see a recent aerial view of the heavily wooded area earmarked for the plant with the Dulles Greenway, Sycolin Road and Route 652 (Gant Lane) in view.
See the accompanying Google map of that area. The plant site is spotlighted in red, above and to the right of Sycolin Road.
If you have questions, the County's project contact is Senior Planner Judi Birkitt at 703-771-5784.