Just about everybody I talk to in Northern Virginia is wary of the Washington Redskins siting their next stadium somewhere in Loudoun County. Well, we now have a very likely scenario that puts the Skins just north of the Dulles Greenway and southeast of the Loudoun County Parkway.
So if you're thinking of buying or selling a home anywhere nearby, please be fully aware of what this could mean, both good and not-so-good.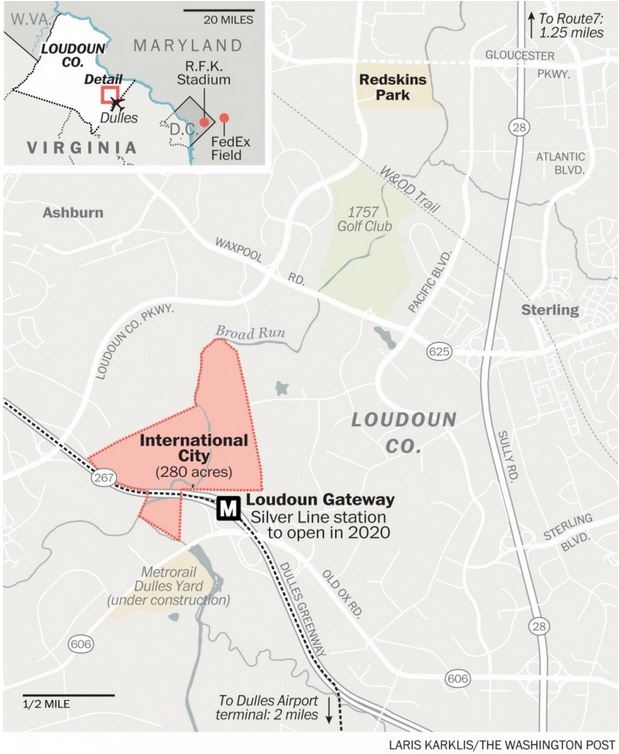 From the adjacent map published in The Washington Post September 27, you can see and read about the 280-acre "International City" site that is due soon to be up for sale. Considering its location and the presumed backing of Virginia Gov. Terry McAuliffe, as well as, the current Redskins Park about two miles away, this property seems a very real possibility for Redskins owner Dan Snyder.
One good thing: there is a Silver Line of our Metro system slated nearby just off the Greenway due to open before any stadium could be completed. That alone should alleviate a lot of traffic from outside the county. Spillover parking could be shuttled in from Dulles airport about two miles south.
The property reportedly has been assessed at about $87 million but could be worth as much as $377 million if developed with favorable re-zoning.
Let me know what YOU think. And stay tuned.