If you don't know about the proposed "Poland Road Transmission Line" project and you or someone you know lives along Route 50 in Loudoun or Fairfax counties, head's up:
Loudoun County is proposing alternative alignments here for the large transmission lines proposed for the Route 50 corridor that could be seen from, and possibly affect, property values in the Stone Ridge, South Riding and surrounding neighborhoods.
Loudoun County at least wants a route that better corresponds with existing and planned land uses, requires the same or fewer rights-of-way and crosses properties that would be less impacted by the lines and associated easements.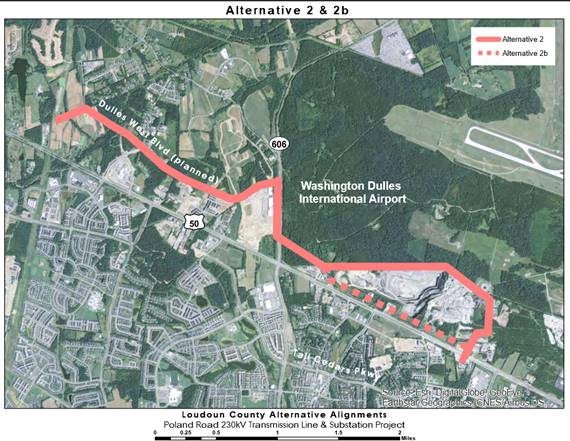 At right is one of the County's three proposed alternative routes.
Here is Dominion's web site dedicated to selling the project.
If you or someone you know lives along Route 50 in Loudoun County and/or in South Riding or Stone Ridge, your views should be heard by filing your comments online or by participating in one of two upcoming public hearings later this month:
Tuesday, October 27, 2015, at 6:00 p.m. in the Board Room of the Loudoun County Government Center, 1 Harrison Street S.E., Leesburg; or
Thursday, October 29, 2015, at 6:00 p.m. in the Freedom High School auditorium, 25450 Riding Center Drive, South Riding.
Details about how to participate in the hearing are included in the SCC news release dated September 21, 2015, here.
To submit comments online, do so by the January 6, 2016 deadline. Go here, then click on the PUBLIC COMMENTS/NOTICES link. There, hit the SUBMIT COMMENTS button for case number PUE-2015-00053.