If the cold weather so far this winter in Northern Virginia has educated us about anything, it may be how efficient – or not – your heating system is. If you heat with natural gas and your furnace is more than 10 years old, you're likely a very good candidate to upgrade to a more efficient furnace that can get you more heat, more quickly and at a lower cost.
Washington Gas and Columbia Gas both have rebate programs underway for homeowners in Alexandria, Arlington County, Fairfax County, Loudoun County and Prince William County. If interested, you should act fast to qualify before they run out of funds.
While you're at it, see if you can snag a programmable thermostat. You might even be able to control it using your smart phone. That functionality is becoming available for air-conditioning systems.
Really old furnaces (15+ years) might be only about 78% efficient. In fact, that's the U.S. government's minimum standard. The newest and most efficient furnaces are up to 96% efficient. Be sure to work with a heating, ventilation and air conditioning (HVAC) contractor licensed in Virginia. They should begin by measuring to fit the right size / capacity furnace for your home.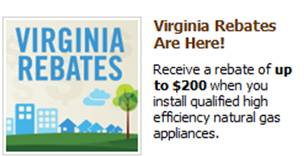 If you're ready to make this investment, why not check and see if your windows are keeping the cold – and the hot – outdoor air from sneaking inside. You might also check if your ducts are properly sealed and what value of insulation you have in your walls and attic.
Ha! I know I'm tacking a LOT on to this energy checkup. But having performed this exercise on two homes I've lived in and seeing how these upgrades have helped save my clients money over the years, this whole-house approach is worth it. Of course, if you're planning to move this year -- in which case give me a call, I'd love to help -- it's probably best to leave this investment calculation to the next owner. The flip side of that is: the equipment and the paperwork to document energy efficiency upgrades can add value when it comes time to sell, especially if you're competing against a similar home nearby. Energy costs are only going to keep rising.
When I checked in mid-February 2014, Washington Gas was offering a $200 rebate. Ah, that's n

ot all. More rebates can be had, sometimes from national manufacturers such as Trane (e.g. $150) and a federal income tax credit if you quality (e.g. $150). Play your cards right and your rebates + credit could exceed $500.
Here's where to go for the Washington Gas gas furnace rebate program (look for the top image, at right): http://www.washingtongasliving.com/RebateProgram.xml.
And here's where to start for homes served by Columbia Gas of Virginia (look for the WarmWise logo, at right: https://www.columbiagasva.com/ways-to-save/residential-customers/cash-back-rebates
Happy heating! Feel free to call me if you need a referral for a trusted and licenseed HVAC contractor.