I'll say it upfront. I'm a big fan of HGTV. I'm especially fond of Guineve Gorder, who shared her insights this past Saturday (November 9) at Belfort Furniture just off of Rte. 28 in Sterling. See accompanying photo.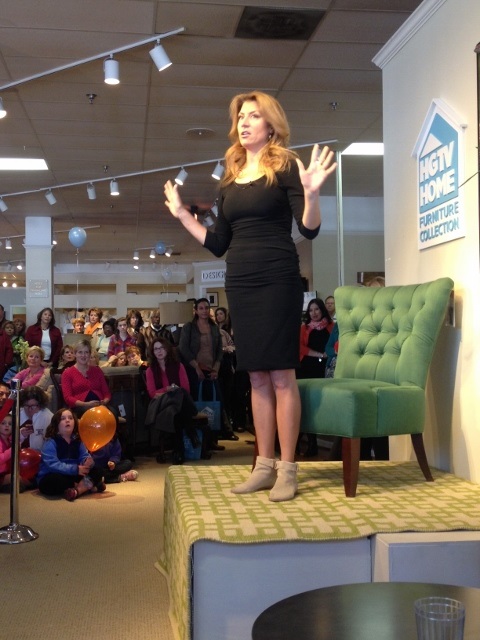 For the most part, she affirmed what guides me in helping clients with updating their homes whether to live in or to sell. Here's a wrap-up of what she shared with about 300 of us. Before I do, here's a 'shout-out' to Michael and Kristi Huber, the husband & wife owners of Belfort Furniture for hosting this confab.
If you're tired or have simply outgrown a furniture piece, sell it or donate it, as it's one of the many things that drags down a home's look or appeal.
If you're deciding on home improvements, starting with the kitchen and baths is a wise choice. For sheer enjoyment and resale value, those upgrades provide the best bang-for-your-buck.
Beige is "blah." Especially if you're selling! Give important rooms some personality with the right tone and some punch of color.
If you have light-colored walls, accent them with similiar color window treatments and with furniture and accessories to pull in color and interest. If you have bold walls, consider keeping the furniture and accessories light and not fighting for attention with the wall color.
As always, drop me an email at andyadvantage@yahoo.com if I can help you with your remodeling project(s).