Neighbors of mine and I are discovering THAT tracking road construction often is not easy to do.
One current example is a roundabout set Lansdowne. It's a roundabout designed to accommodate increased traffic going to and from the just-opened Riverside High School in Lansdowne off of Upper Belmont Road
Hard to believe! The contractor tapped to rework the intersection of Upper Belmont and Riverpoint Drive muddled through much of the summer ahead of the high school's September opening without completing this intersection. Mind you, this intersection is integral to smoothly and safely moving buses and other vehicles in and out of Lansdowne. The sidewalks planned are supposed to help guide walkers, joggers, and school children.
The intersection's STOP signs on Riverpoint Drive were removed and the circle was laid out around a large, uneven, hole in the ground. And there the hole, uneven pavement and circle sat as a work in progress (photo).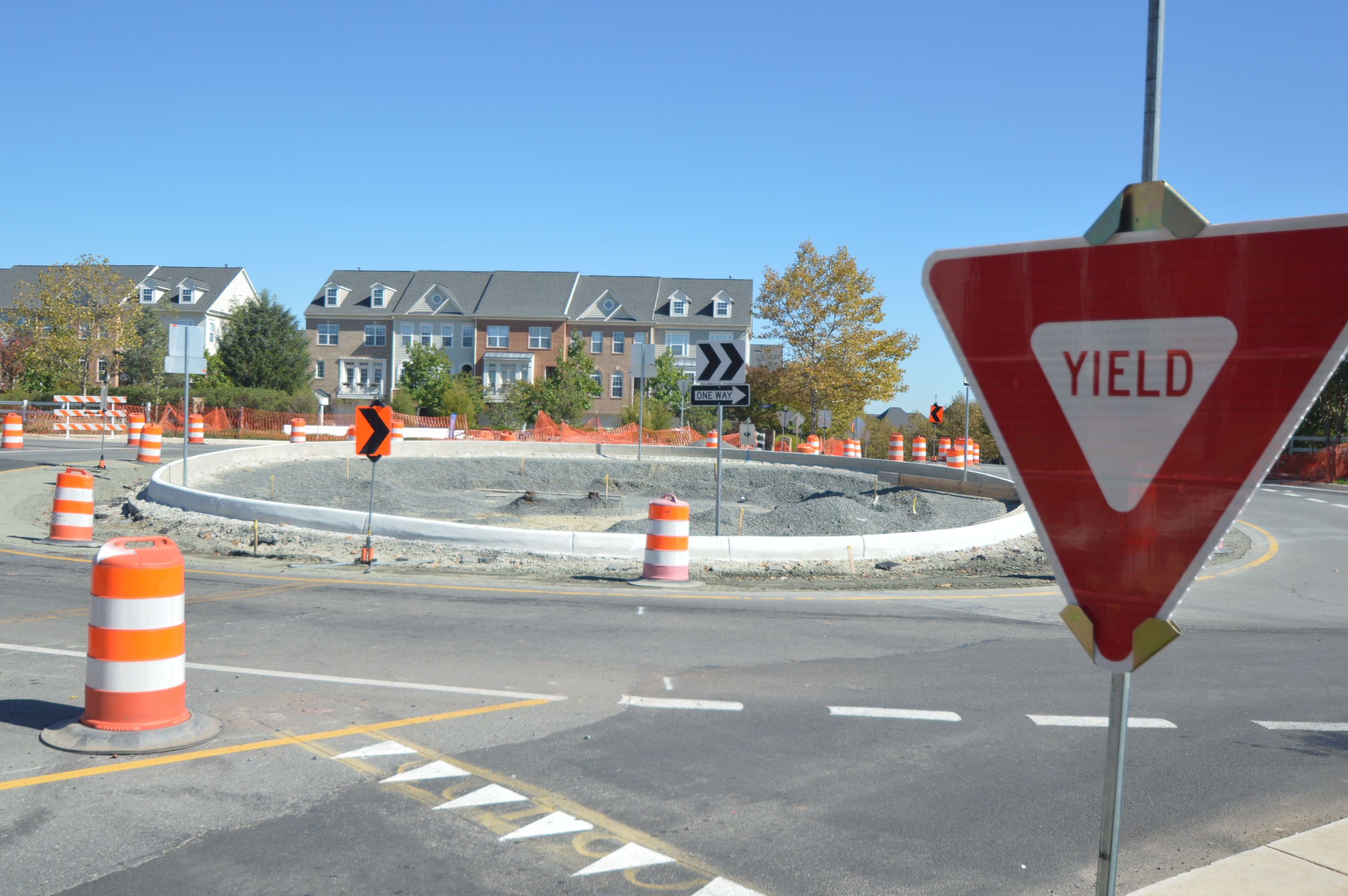 Wondering what explained the delay, my husband and I contacted VDOT, then the County and ultimately the Loudoun County Public Schools. Turns out the contractor building the new high school – The Christman Company, with offices in Reston – is doing the roadwork.
As I write this in mid-October, work is far from completed. Here, in short, is one plausible explanation as to why.
When the roundabout was designed, the Christman supervisor on the job, Mike Stanger, said nobody apparently contacted about the electricity, natural gas nor water utility lines that run underground near the intersection. Hard as that may be to believe, Stanger said until those utilities give Christman the go-ahead, work cannot be completed.
I find it very hard to believe such a fundamental step – e.g. calling "Miss Utility" before they dig – was overlooked. If you have any ideas why that, apparently, didn't happen, let me know or volunteer a comment here on my blog.
In case you're wondering, Loudoun County School Board Chairman Eric Hornberger, who happens to represent the Ashburn / Lansdowne district, said Christman "loses profit each day they do not fulfill the contract. All funds not utilized on the project ultimately revert to the County." That's fine, but what about the intersection? I'll chime in if and when Chairman Hornberger or another school official has more to offer.
In an email to my husband, Hornberger said Christman was the lowest qualified bidder and therefore, awarded the contract in standard government practice. "It is a national firm, though this is their first project in Loudoun (and I wouldn't be surprised if it were their last)."
Hornberger said school system staffers are working with the contractor closely to get them back on track. That may be, but one of the workers on site on Columbus Day, said he understands the work is likely to stretch well into December.
How much more of a challenge might it be to navigate such an intersection with half a foot of snow or some ice on the road? We might get that chance. Drive carefully my friends, v e r y carefully!
The Lansdowne HOA provided this update on Thursday, October 15: "After many delays, Loudoun County Public Schools has advised that road construction will be completed in early November. Residents are asked to be patient and cooperative as traffic flow will be impacted throughout the next few weeks."