For all you green thumbs out there, especially those who pride yourselves on healthy lawns, I trust you'll join me and my husband Jim wondering what it takes to keep a lawn healthy during crazy hot summers similar to what we've experienced this year!
We all know it goes beyond just fertilizing and watering. I'm talking about knowing exactly what kind of soil you have, how compacted it is, whether top soil or compost is best to help with fresh seedings. Also, how do we know how much water our lawns need other than just eyeballing it, right? Ha!
I'm posting this now because the middle of September is the optimal time frame for your fall treatments.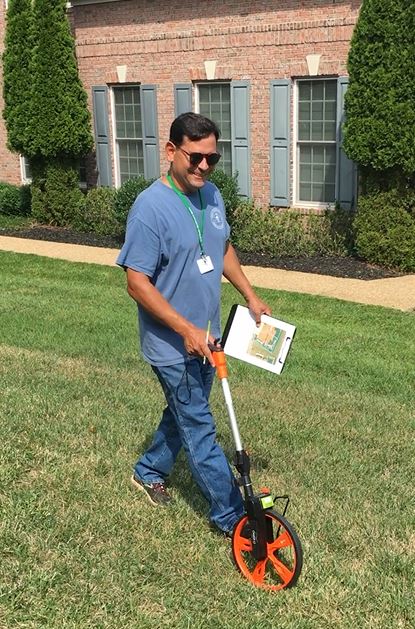 We called on an excellent resource for healthy lawns in Northern Virginia, one of Loudoun County's Master Gardeners, Joe Sanchez (left). Here are his recommendations for this Fall's lawn treatment.
First, if you don't have a firm grip on it yet, spend $20 for an assessment of your lawn from the Virginia Cooperative Extension's Master Gardeners. First he/she will measure the size of your lawn, collect a small box of ground up soil samples (other photo, below) send you a detailed evaluation and outline how you should treat it.
The evaluation includes whether your lawn needs lime, what its pH level is, what type of fertilizer is best and when to apply it.
While many of us think that spreading some topsoil works well with fresh seedings, Joe says compost is better. He recommends using as much as possible without covering the tips of freshly-cut grass blades. Call me at 703-593-9432 if you want a list of places to buy compost, that is if you don't collect/make it yourself. If you do, please let me know!
You can get a LOT of literature along with the visit from a Master Gardener, including a neat gadget to measure the water your sprinkler's put out.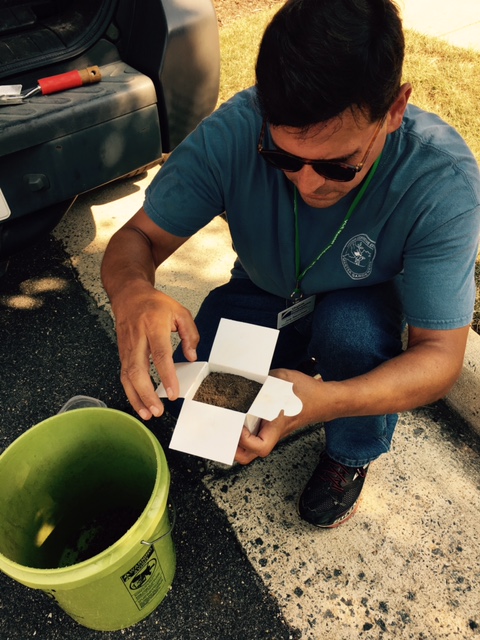 To sign up for a soil analysis in Loudoun County, go to this web page where you can read up on health lawns. If you're in a hurry, click on this link to register for a visit. You can contact them at 703-777-5150 or via email at loudounmg@vt.edu.
If you're in Fairfax County, go to this web site for the best contact information; or call them at 703-324-5369;
If you're in Arlington County, this is the web site to visit, or you can call them at 703-228-6400;
If you're in Fauquier County, their web site is here. Telephone 540-341-7950.