A better butter knife
Have you ever pulled a stick of butter out of your refrigerator and found it difficult to break down the seemingly impenetrable cold bricks? Well check this out.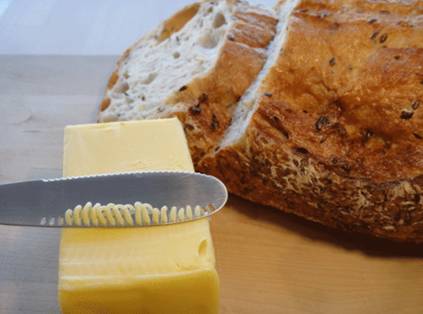 According to The Washington Post, a team in Australia recently raised more than $200,000 via Kickstarter to develop a butter knife with 21 perforated holes along one edge and a sharp serrated edge on the other. The holes take tiny slivers of butter what you can easily spread on toast and other culinary delights, very much like the accompanying photo.
Now for this exciting advancement in technologies for the kitchen, you couldn't expect the owners to virtually give it away. What would you charge in U.S. dollars? Compare your price with the price reported by The Washington Post's Style Section at the end of this article.
Preorders are being taken here. Shipments are slated to begin in 2015.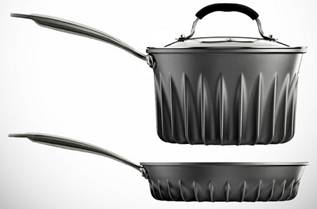 Sauce pans with fins that heat liquids faster
Lab tests show that a lot of heat is wasted with conventional, round, sauce pans. Not these Flare Pans, designed by Thomas Povey, a jet engineer in the United Kingdom. Those fins channel a lot of heat back inside the pan that translate into energy savings of up to 40 percent.
You can buy the sauce pan, pot and frying pan now from Lakeland, a manufacturer i what price would charge for a standard-size sauce pan and pot? Answer is below.
A shovel and a whole lot more
For all you gardeners and handymen out there, take a look at this ingenious and versatile shovel. It has dozens of uses that go far beyond digging. Among the other uses are a can opener, hammer, a wire/cable cutter, a prying tool, sawing metal pipes, rock climber and can opener.
Move over Swiss Army Knife! You can find this Chinese military shovel on Amazon but before you go there, take a guess how much it costs at retail? Answer is below.
To up the ante, see if you can find this shovel through other web sites and for how much of a cheaper price.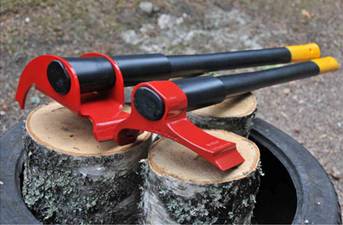 Not your everyday axe
Fall and winter are fast approaching so it's time to load up on your firewood. Don't get lazy on me and grab bundled firewood at the local grocery store. You are better than that, especially with this slight off-kilter Leveraxe invented by a Finnish woodsman, Heikki Kärnä. It's been for sale since 2008.
True to its name, the Leveraxe, with the head attached from the side (versus the center) twists slightly in the hand upon impact, according to reviews. That rotational "lever" action helps to further separate the wood while keeping the axe from getting stuck. You can buy one here.
How would you price the Leveraxe at retail? Find out below.
Current or suggested retail prices according to The Washington Post:
The better butter knife: $15; Pot and sauce pan with fins: $85; Chinese military shovel: $80; Leveraxe: $300.