If you or someone you know is gluten-intolerant, as I am, there is now some help from the U.S. Food and Drug Administration (FDA) for finding foods that are very low in gluten or literally gluten-free.
The FDA earlier this month issued the first-ever standards for "gluten-free" foods. The standard actually permits foodstuffs to contain some gluten but the agency implies the 20 parts per milion (ppm) allowed does not pose a threat to people who are gluten-intolerant.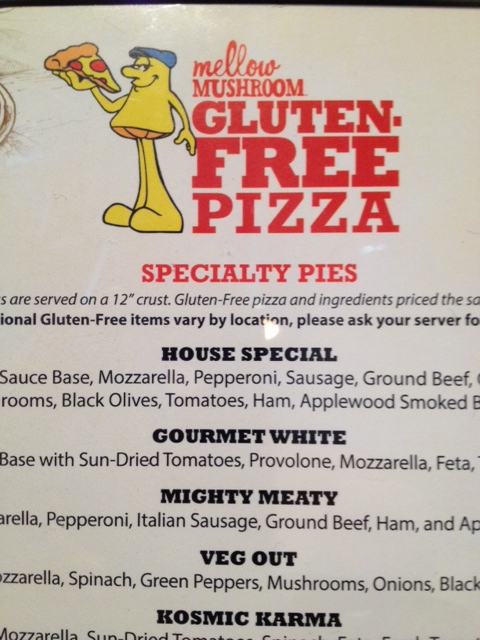 20 ppm is the lowest level that can be consistently detected in foods using valid scientific analytical tools, according to the FDA here. Most people who are gluten-intolerant, including those with celiac disease, can consume foods with very small amounts of gluten without noticeable side effects. This level is supposed to be consistant with standards set by international bodies.
I am extra careful in avoiding gluten in breads, cakes, cereals, pastas, snacks and many other foods# Whenever I'm dining out, I ask for a gluten-free menu; thankfully, more restaurants have multiple tasty and healthy options to choose from# Among the restaurants I'm coming to trust: P.F. Chaings, Legal Seafood and McCormick & Schmicks. Even a new entry in the Northern Virginia's healthy sweepstakes -- Mellow Mushroom in Herndon (photo, left) offers gluten-free options. CeliacsHandbook.com, while currently offline, may be a useful resource with local dining recommendations throughout much of the country.
The FDA asserts this standard "will eliminate uncertainty about how foods producers label their products and will assure people with celia disease that foods labeled 'gluten-free' meet a clear standard established and enforced by the FDA."
As many as 3 million people in the U.S. alone are reported to have celiac disease. That occurs when the body's natural defenses react to gluten by attacking the lining of the small intestine. Without a healty intestine, the body can't absorb the nutrients it needs Celiac disease can lead to anemia #low red blood cells#, osteoporosis, diabetes, autoimmune thyroid disease and intestinal cancers.
Guess what the craziest thing I've learned has been labeled gluten-free? Water! If you reacted: "Of course there's no gluten in water," you would be correct. Go figure.
Under the new rule, a food label that bears the claim "gluten-free," as well as the claims "free of gluten," "without gluten," and "no gluten," but fails to meet the requirements of the rule would be considered misbranded and subject to regulatory action by FDA.
If you want to read more, the FDA explains its runup to the standard here.
If you want to listen to NPR's recent 3 and 1/2 minute story on it, go here.