Summer's rapidly coming to a fruitful conclusion so that means it's time for the second annual Epicurience Virginia. If this year's festival is ANYthing like last year's, it's worth enjoying at least one event.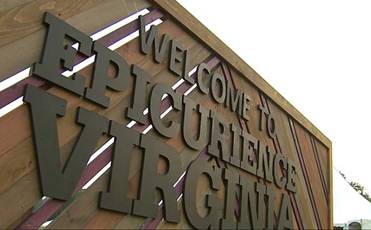 Friday, August 29
Chef Nathalie Dupree hosts the official Opening Night Kick Off dinner 6:30 – 9:30 p.m. at the historic Marshall House in Leesburg with farm-to-table cuisine artfully prepared with Virginia products. Tickets may seem a bit pricey @ $150 but I think they're worth it. Dupree is the first woman since Julia Child to host more than 100 cooking shows on public television. You can meet the winemakers and farmers in person and learn how they get their products from vine to glass and farm to fork.
Also on Friday night is a dinner and twilight tour , 6 – 9:30 p.m., at the 8 Chains North Vineyhard in Waterford. Tickets @ $130.
Saturday, August 30
Head to Morven Park in Leesburg for the event's Grand Wine Tasting, Noon to 6:30 p.m.; tickets @ $85.
On Saturday night you have a dinner and/or a party to enjoy:
The Summer of Spain Wine Dinner is at the North Gate Vineyard in Purcellville; tickets @ $90. I'nm psyched about this one because Executive Chef Michael Kozich will deploy local ingredients to create Basque Country-inspired dishes paired with two Spanish wines: a 2010 Mont-Marcal Cava from Barcelona and a 2009 Agricola Labastida Tierr Fidel Tinto. Dessert follows along with live music on the patio, weather permitting. If you're a fan of Meritage reds, my husband and I bought two of their fabulous 2011 vintage bottles earlier this summer. Give them a try!
The Oatlands Historic House and Gardens in Leesburg is hosting a Fabulous 1940s Party from 7:30 – 11:30 p.m.; tickets @ $95.
Sunday, August 31
Enjoy a Brunch Spectacular at the Salamander Resort and Spa in Middleburg, 10:30 a.m. – 3:30 p.m. Tickets for adults are $75, $18 for children.
Greenhill Winery and Vineyards in Middleburg is hosting a picnic starting at 11 a.m. Tickets are $100 for two people.
The "Tour Fresh, Tour Local" will be from 1 – 3 p.m. at the Goodstone Inn and Restaurant in Middleburg; tickets @ $65.
And wrapping up this year's Epicurience is dinner at the Catoctin Creek Distillery and Magnolias at the Mill, both in Purcellville starting at 6:30 p.m.; tickets @ $85.
For more information and to purchase tickets, go here.
Enjoy!