Not since the year before the housing bubble in Northern Virginia and the greater Washington, DC-area have home prices increase as much as they did in April 2013 compared to a year earlier period.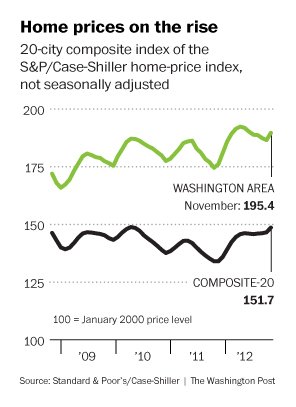 Home owners should be feel a little better about the value of their homes given that the average home sale price was 7.7% higher in April compared to April of 2012, according to Standard & Poor's Case-Shiller Home-Price Index as reported by today's Washington Post.
Home sellers should take note: for properties in very good condition, with a sought-after location and updated features, especially in the kitchen, family/great room and/or master bathrooms, the premium home buyers are willing to pay may be higher than what this kind of increase suggests.
For home buyers, the upshot is: the longer you wait the higher prices are likely to continue climbing. This is especially true with interest rates still below 4%. All it takes is a quick phone call to 703-593-9432 to start your search. I look forward to helping you.