THIS, is almost too good to be true but it's worth a try.
The Virginia Department of Transportation has a network of cameras you can access online to see if roads you're about to travel on have been plowed. As I write this, we're experiencing our first real snow accumulation of the season -- a day before Thanksgiving already!
The next time it snows and you want to check the roads, go to www.NovaSnowPlowing.virginia.gov. What you'll see are the views of the many traffic cameras in Fairfax, Loudoun and Prince William counties.
The "snowplow tracker" is supposed activate after it has snowed two inches or more. It's also supposed to tell you where they are going, but I've yet to see that or figure that out. If you do, please reply with a comment here to share with my readers. And pat yourself on the back!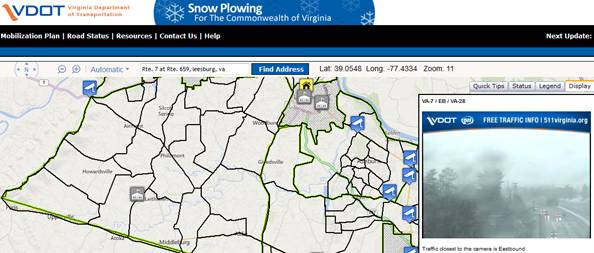 The blue traffic camera icons are what you can click on to see the current view at that location. The screen inserted was of Route 7 / Leesburg Pike at Route 28 in Sterling around 2p the Wednesday before Thanksgiving this year as we were getting our first real snowfall of the year. Lanes with oncoming traffic are eastbound on Route 7.