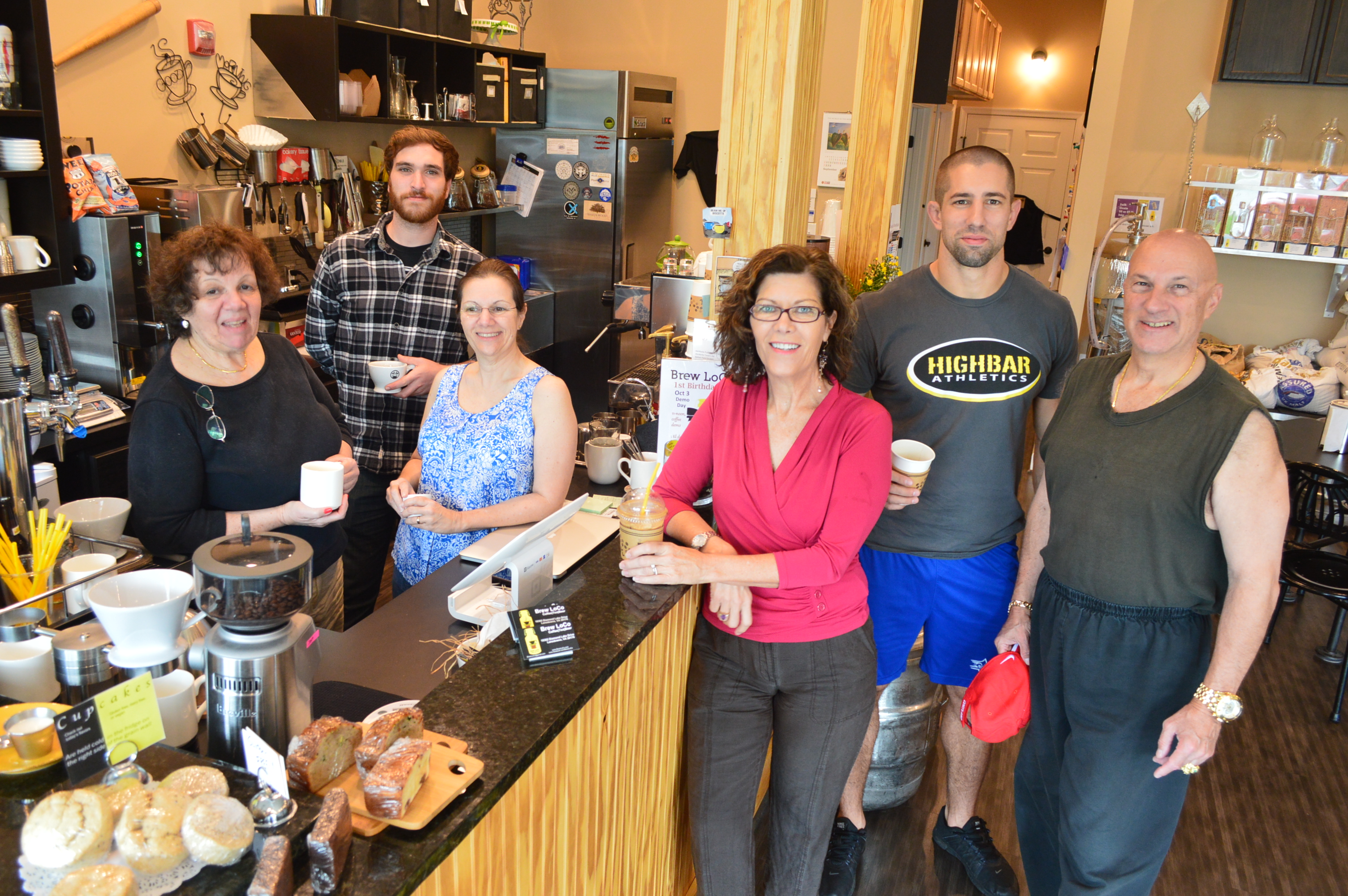 For all you coffee-lover and micro-brew fans, if you can swing through Lansdowne Town Center on your way to work or running about on the weekends, have I got a catch for you. It's Brew LoCo at 19382 Diamond Lake Drive in across from the Town Center's gazebo.
You'll find co-founders and sisters Mary and Cathy and their barrista, Dan, (on the left, behind the counter) making home-spun coffee, tea and beer to refresh your senses and inspire conversation. Combine these with some healthy eats. My favorite for us gluten-free "peeps" are their tasty treats.
After only its first year, Brew LoCo is quickly becoming the go-to neighborhood hangout that a national coffee franchise around the corner must be drooling over! Makes me think of that song from the TV show "Cheers, where everybody knows your name."
I'm writing this now because I'd like my neighbors, friends, colleagues and clients to help Brew LoCo celebrate its first birthday this Saturday and Sunday, Oct. 3 & 4. Now Mother Nature might throw us all a curve ball with that hurricane headed up the coast. But hey, maybe they'll add a hurricane special to their Fall offerings.
They feature fresh, locally roasted artisan beans that are available by the ounce to go. They have their a house blend, (decaf if you need it) and a "Lansdowne Roast" (darker than the house blend, along with seasonally available single-origin coffees from Ethiopia, Sumatra, Peru, Costa Rica, Brazil, Colombia, and Mexico. They'll sell you whole beans or ground for your specific coffeemaker.
Beers they have on tap come from a bunch of breweries in Northern Virginia and the Mid-Atlantic region, including (when I wrote this): Adroit Theory, Adventure, Ardent, Crooked Run, Fair Winds, Flying Dog, Hardywood Park, Lickinghole Creek, Ocelot, Old Ox, Port Ox, Port City, Three Notch'd, Victory.
Back to their coffees: If you order a cold one, that's a special surprise I won't ruin for ya – trust me! The BEST part of experiencing Brew LoCo are Mary's and Cathy's knowledge of the local brew scene. Very cool people; you'll want to be coming back.
If you want to give them a taste, text me at 703-593-9432 and I'll try to meet you there!