A friend of ours in Alexandria recently inquired what's the least expensive way of getting from the Reston Wiehle station at the end of the new Silver Line to Washington-Dulles International Airport. I didn't know off hand so I checked into it.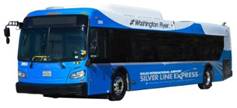 Voila! The Washington Flyer bus system has busses (right) that run daily connecting the airport with the Reston-Wiehle station, currently the closest Washington "Metro" subway system station. The cost: a mere $5 each way.
Below is the schedule at a glance. Go here for specifc times.
Be sure to pass this along to friends and family.