For those of you who bought your first or next home this past spring or early summer and who snared one of those delicious 3.5% 30-year mortgages, kudos to you. That's the lowest rate in Baby Boomers' lifetimes. We'll not likely see rates that low again for a long time.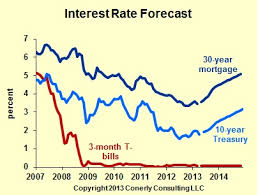 But that doesn't mean rates are going up fast. Yes, as Andy and I wrote this, 30-year mortgage were fluctuating between 4.5% and 4.75%. While notably higher than 3.5%, today's mortgage market is still relatively attractive. And that means for anybody sitting on the fence, you're not likely to gain much by waiting; and you may lose ground.
So if you're ready to buy, it's a good idea to check with your mortgage broker and be prepared to place a "lock" on what you believe is the best rate for your needs. See one forecast carried frequently by Forbes magazine, at right.
If you like monitoring money market conditions, here is a sampling of perspectives selected by a leading interest rate monitoring service, Bankrate.com, and the factors that affected mortgages during the first week of September 2013. This was as Congress was debating whether to affirm President Obama's decision to retaliate for alleged chemical attacks on Syria civilians. The U.S. economic recovery seemed to be slowing in advance of the first full fiscal year budget sequester. These and other factors seemed to be keeping mortgage rates from rising.
Polyana da Costa, Senior mortgage reporter, Bankrate.com:
"Tension in the Middle East will make investors seek safety in U.S. mortgage and Treasury bonds. Increased demand for bonds should help keep a lid on mortgage rates for now."
Dan Green, Waterstone Mortgage, author of TheMortgageReports.com, Cincinnati
"Sentiment shifts on weaker-than-expected housing data. Mortgage rates ease."
Dick Lepre, Senior loan officer, RPM Mortgage, San Francisco:
"The daily and weekly techs are both upcrossed to bullish (higher prices, lower yields), so we should get that 15-day dip in rates we have been waiting for."
Greg McBride, CFA, Senior financial analyst, Bankrate.com: