New data from the regional multiple listing service showed continued modest but steady growth in Northern Virginia's real estate market in 2015.
While 2015 got off to a relatively slow start, it finished at a relatively quick pace in the late summer and fall months, according to RealEstate Business Intelligence by MRIS in Rockville.
I'm compelled to caution my clients and friends from drawing any over-arching conclusions from this latest report. What IS important to note is the steadiness of the growth. This should encourage people interested in buying a home or moving up to a different home in Alexandria, Arlington County, Fairfax County or Loudoun County has the strong potential to be a good investment. This is especially true if one plans to live there more than just a few years and is smart about what they buy. Naturally, I'd love to help you make the smart choice.
Below are the middle, or median, prices of all sale reported thus far in 2015 and the increases county-by-county in 2015. Remember these account for all homes sold. They don't reflect prices in certain neighborhoods or the conditions and features of the homes sold.
Median Sales Price Increases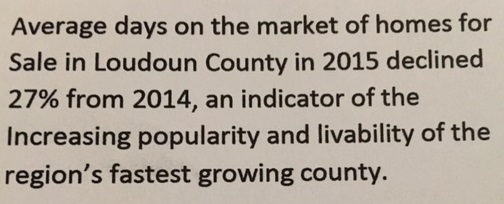 Alexandria: up 5.24% to $500,000
Arlington County: up 5.75% to $560,000
Fairfax County: up 1.1% to $460,000
Loudoun County: up 4.4% to $435,000
The number of days it took properties to go from an active listing on the market to under-contract remained about 30 days throughout 2015 for most areas. Here too this is just an overall measure. A well-priced home in a good neighborhood with lots of popular features that are up-to-date could easily sell in a lot less time. The opposite is true for unkept homes in declining neighborhoods with unrealistic asking prices. Here's the breakdown:
Days on the Market
Alexandria: 27 days
Arlington County: 27 days
Fairfax County: 38 days
Loudoun County: 34 days
The days on the market for both Alexandria, Arlington County and Fairfax County declined about 5% from 2014. But in Loudoun County, days on the market declined by about 27%, a sure-fire indicator of its growing popularity and the amenities coming to communities such as One Loudoun. Compare those numbers to the national median of 84 days!
One dynamic as we head toward the 2016 Spring season is the first uptick in basic interest rates in eight years. While the increase was a mere ¼ of a percent, it does suggest that the very low mortgage rates we've enjoyed during this time are going away. And that means waiting for a better rate of a 15- or 30-year mortgage could increase your monthly payment.